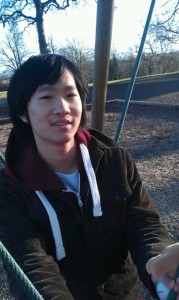 In the past, this blog has featured poetry by a very special boy named Tianze. Several years ago, Tianze's family moved from China to the UK. They adapted to a new life in the West while simultaneously coming to terms with the realization that their son was autistic.
By all accounts, he is a talented lad, a pianist as well as a poet, and very sensitive. I've never met him in person, but have maintained a lively correspondence with his mother, Nina, since he was very little and have followed his progress all that time.
Tianze was considered high-functioning and in school was mainstreamed with other kids. Beginning at age 11, he began feeling extreme anxiety, which he sought to relieve through repetitive behaviors. His condition worsened over time and he was transitioned to a special-ed setting. By age 15 his behavior had become destructive.
Various drugs were deployed, providing little or no lasting help and sometimes causing undesirable side effects. Tianze continued to experience unbearable mood swings, from anger to sadness, and his behaviors seemed to be an effort to achieve release.
When we hear of such problems, we want to do something. In the past I've put Nina in contact with specialists who I hoped would be able to advise her. And I have reported to her any leads I found regarding possibly understanding and actually treating the problem. (For example, I read somewhere that teenagers have a higher demand for folate, which is a basic building block to all neurotransmitters, which in turn may affect thinking and moods. Conceivably, for someone already fragile, such a deficiency might create the condition suffered by this young man.) (I mention that just as an example of the many seemingly plausible ideas that one comes across. This likely is not the answer for him. But one cannot accept the notion that an answer doesn't exist.)
In looking for help for her son, Nina never thought she would lose the right to live with him or even to make decisions on his behalf. But that's what happened.
In early 2014, after two years of challenging behavior, he was admitted to a clinic for a few weeks of observation. Then, unexpectedly, his stay there was extended indefinitely. He has been moved a few times to different facilities since then but has never been allowed to return home, even for visits, despite desperately wanting to go home. Worse, he is not being treated. He is being warehoused.
Occasionally, the family is allowed to take him outside to a nearby park.
Nina writes, "I just so disappointed about UK's human rights toward disabled children and families. Sometimes I really wish to move out of UK, however it is not easy now."
As I noted when adding my name to an online petition on Tianze's behalf, "I too have an older son with developmental issues, and during the years in which I have worked to improve his options in life I have met numerous motivated families such as Tianze's parents. I know for a fact that any such family willing to provide care for their child will do a better job than anyone else, and the child in question will also be happier."
For me, the underlying problem here recapitulates very familiar efforts sustained over a great many years that were motivated by the desire to help my own son. Intrusive government agencies never gained much of a toehold in our case, thank God, but I know all too well the endless search for specialists, the independent pursuit of answers, and the intractability of the problem. Not being able to solve that problem is of course behind the more acute problem in which he is taken away from his family.
But again, we're still left with the need to do something.
Sometimes a simple human touch can mean a great deal. Tianze's 18th birthday is coming up on November 5. Although he must spend that date incarcerated in the "hospital," we can try to make the experience a little better for him by sending birthday cards. That is Nina's request. The address is:
Tianze Ni
95 Barrington Crescent
Middlesbrough, TS3 9HZ
UK
(If possible, try to get attractive stamps for the envelope. Something tells me that might add to his pleasure.)
Tags: