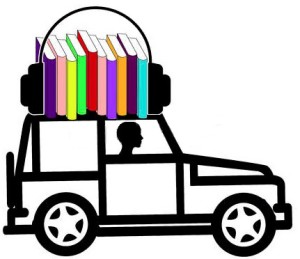 I always read a lot, but consumed at least twice as many books as usual in 2016. That's because I spent the year commuting a significant distance every day, and needed to occupy my thoughts with something worthwhile. Audiobooks came to my attention a couple years ago, when Kevin Arthur Harper narrated the audio version of What About the Boy?. If you haven't heard that, please excuse this rare but shameless plug. (Incidentally, the distributor of the printed version went out of business in 2016, effectively taking the title out of print. Consequently, non-audio options are limited to downloading it to your Kindle or Nook, buying it second-hand, or contacting me for an autographed/inscribed copy.)
Every year about this time I share a few titles that have particularly impressed me, with links back to more complete write-ups on Goodreads. Doing so is my answer to the well-known lists of new titles that everyone is supposed to be reading. Since there were more to choose from this time, these are the best of the best. Perhaps one of the following would be a fit for somebody on your holiday gift list. (Oh, and did I mention autographed copies of WATB?)
Audio
Cutting for Stone, by Abraham Verghese, narrated by Sunil Malhotra
I was unable to make much headway in the printed version of this book when I tried some years ago. There was nothing wrong with anything I saw, but somehow the feeling I picked up from the text was one of joylessness. The audio version, with its extraordinarily good voice actor, changed that, and brought this wonderful story to life. To say Cutting for Stone is a story about practicing medicine in Africa does not begin to suggest its drama and philosophical insight, or the depth of every single character—or to convey any sense of the connection a reader can feel with them as, time and time again they find their world isn't as "intact" as they'd supposed, that despite their planning and expectations, events are going to take an altogether different path. That has certainly been my own experience of life, which is one reason this story appealed to me so strongly (once the audio version made it more accessible).
Cross Roads, by William Paul Young, narrated by Roger Mueller
Here's an audiobook with narration that's just about perfect. The narrator doesn't overdo the accents (British, Native American, Black). He doesn't call attention to himself at all. But he has a rare ability to add life and dimension to the story, and especially to deliver emotion like the best of actors, and consequently I enjoyed it much more than would have been possible in print format. The first part of the story closely resembles my memory of Young's earlier book, The Shack. Some of the early dialog feels tedious—didactic if not preachy. But then the plot becomes more interesting. As the frustrated father of a disabled son, I especially liked Tony's opportunity to experience the perceptions of a boy with Down Syndrome. I loved everything that followed. I sensed the concept was challenging for the author to sustain, but he introduced enough changes and wrinkles to keep me guessing.
The Testament of Mary, by Colm Toibin, narrated by Meryl Streep
This is a startling, disturbing story. At first I felt vaguely repelled by it, because the aged Mary portrayed here is a reclusive husk of a woman, someone who has endured horrors and learned to distrust the people around her, and has long since abandoned any illusions about the goodness or importance of life. She's nothing like the serene, trusting mother of Jesus we've been given in Scripture and doctrine. But I see no necessity for this story to be about Mary, and that's the main attraction it has for me. It's a story about how to interpret the anguish we experience in life. I've experienced my share. And I continue to do so. I think faith is supposed to empower one to accept that our suffering is part of God's greater purpose, and to believe that everything will be made perfect in the end. Having mentioned Job in the second blog post linked to above, I should here acknowledge God's response to Job's challenges: Clueless mortals were not around when God set up this universe and therefore have no basis for passing judgment. All we can do is trust. I daresay most believers find this very difficult at times. For the Mary in this story, it's impossible.
Child 44, by Tom Rob Smith, narrated by Dennis Boutsikaris
I admired this, the first of a trilogy of novels about Soviet agent Leo Demidov, so much that I made a point of finding and reading the sequels in quick succession. On almost every level, this is a fantastic piece of literature. It easily ranks alongside 1984. The structure, the pacing, the characterization, the depicted thought processes of Leo and Raisa—all of this feels like the stuff of a true classic. Twice, turns in the plot took me completely by surprise. Further, it's the kind of story that desperately needs to be told. At times, this author is a little careless with his grammar. I'm puzzled as to how mistakes like his can occur within a work that otherwise demonstrates such prowess in story-telling. Normally, the editor in me would object more strenuously, but for this book I'm only mentioning it.
Abundance: A Novel of Marie Antoinette, by Sena Jeter Naslund, narrated by Susanna Burney
This captivating historical novel begins with the young Marie Antoinette journeying from Austria to become the bride of the French Dauphin. The good-hearted young lady clearly perceives a world completely incompatible with the future that we know awaits her. And until much too late, she's unable to grasp the notion that the good days she's always known could actually end. (Their end is the inevitable product of the times, but it's probably safe to say that end was hastened, and made much less pleasant, by the actions of her husband's grandfather, Louis XV.) When she does perceive the direction life is taking, her response—in this rendering at least, and quite possibly in fact—is simply noble. Marie Antoinette has been vilified down through the years, but the character presented here is not a bad person.
Print
The Guernsey Literary and Potato Peel Pie Society, by Mary Ann Shaffer and Annie Barrows
Prior to starting this, I had misgivings about a novel consisting solely of letters and telegrams among various people, and I also worried that having two authors would be a drawback to the quality (it usually is). Oh, and the title seemed too cute. All those doubts were quickly laid to rest. This is a delightful story, and it gets better as it goes along. The missives make me nostalgic for the days when people actually wrote letters, on paper. I always appreciated the occasional letter that included wit and thoughtfulness, and in this story the gems are more than occasional. The anecdote about Oscar Wilde that occurs near the end is just delightful. And the ending itself is truly lovely. That's the best word for it.
The Heart Does Not Grow Back, by Fred Venturini
I picked up this novel because the premise sounded original. A couple chapters in, I felt thrilled with it, because the depictions of youthful relationships (on the playground and then among teenagers) are so deliciously rendered. Then the subject matter becomes less pleasant as the story veers off on an unexpected tack. Dale, the main character, suffers major injuries—but it turns out he has an unexplained ability to heal quickly, regenerating not only skin and tissue but even lost body parts. When he becomes aware of this special ability, he wants to use it, by becoming a living donor of kidneys, corneas, etc. But does he subject himself to all those difficult surgeries because he's just a very good person? Because he feels an obligation of some sort? Not necessarily. I thought his wholesale organ donations resembled the impulse some people have to adopt stray dogs and cats, or to try and rescue down-and-out people–the idea being to lift them out of dire circumstances and show them how much better life can be. There is kindness in such an act, of course. But there's also a balance between personal sacrifice and display of power, a balance that can tip unexpectedly after the process has begun.
Time and Again, by Jack Finney
Simon Morley, a bored graphic artist wasting time in an advertising agency, is plucked from that life to participate in a hush-hush project that involves sending agents into the past. He transitions to the New York City of 1882, with the personal agenda of observing and perhaps learning about a mysterious event that has long puzzled his girlfriend's family. He ends up making repeated trips back, each time endeavoring not to interfere with events and thereby inadvertently alter the course of history. However, it proves impossible to remain strictly an observer; he does interact with the people there, to a far greater extent than ever envisioned. Then it turns out his government handlers back in the Twentieth Century actually want him to get involved, in hopes of engineering a better modern-day world situation. (I'm attracted to treatments of this idea, having a number of intractable problems of my own at present.)
The Confidence Game: Why We Fall for It … Every Time, by Maria Konnikova
Our civilization has to operate on a general assumption that interactions are supposed to be win-win, not predatory. Nevertheless, con artists are a reality. The Confidence Game describes the phenomenon in a way that is both enlightening (from a psychological standpoint) and empowering. Maria Konnikova tells instructive stories of how con artists wrecked the lives of people who ought to have been smart enough to know better. Maybe intellectually they did know better, but "our emotional reactions are often our first. They are made naturally and instinctively, before we perform any sort of evidence-based evaluation." There are examples aplenty in my own experience, especially in regard to having a child with mysterious developmental problems, and turning to alternative providers when regular doctors did not help him. Unethical caregivers are not the focus of my book, but a few appear in its pages. And the template they use for reeling in fresh suckers became even clearer as I subsequently blogged about having a disabled adult son. Armed by that experience, I may have been a little quicker to spot scams aimed at new authors who seek public awareness of their books. The author explains that our vulnerability to being conned derives from a trait conducive to personal fulfilment and social cohesion. We should continue to expect our transactions to be mutually beneficial. But we also desperately need self-awareness so our intense desire for a certain outcome does not overwhelm common sense.
Tags: